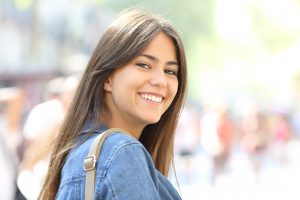 Have over-the-counter teeth whitening products failed you? Are you considering professional teeth whitening instead? Whether you'd like to remove everyday stains or simply want white teeth, Jeffrey S. Thaller DMD and his team can give you a smile you'll love. With one quick-and-easy in-office whitening treatment, you won't believe the difference.
Yellow Teeth? Let's Change That.
If you're self-conscious about your yellow teeth, Jeffrey S. Thaller DMD has the solution. The fact is, only a professional-strength system used at the dentist's office can remove years of discoloration caused by food, tobacco use, age, and medications. Let Dr. Thaller and his team can help you reveal a brighter, whiter smile with a safe, effective whitening treatment today.
How Our Dental Whitening Works
Jeffrey S. Thaller, DMD uses a non-invasive hydrogen peroxide gel-and-tray technique that's FDA and ADA approved. Because we use a higher concentration of dental whitening agents, the results are immediate and long lasting. In as little as one hour, you can achieve a smile that's several shades whiter and more brilliant than you've ever seen before.
Don't let your yellow teeth hold you back from smiling. Contact us today at 908-654-7050 for a professional teeth whitening consultation.
.