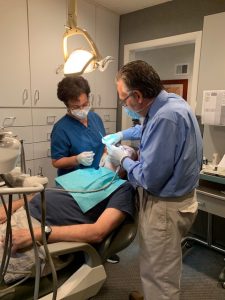 For complete cosmetic dentistry services, come to Jeffrey S. Thaller DMD. We specialize in restoring your smile. From tooth bonding to porcelain veneers, we do it all.
Laminates
Dental laminates are porcelain veneers, which are thin pieces of porcelain, cemented on top of your existing teeth for a straighter appearance, creating a brighter and more desirable smile.
Bonding
Tooth bonding is similar to dental laminates. Tooth bonding is ideal for restoring teeth that are discolored or chipped. The process consists of bonding a tooth-colored resin over the existing tooth with a high intensity light.
Cosmetic Contouring
Reshape your smile with cosmetic tooth contouring. Tooth contouring helps to fix minor tooth flaws such as cracks, chips, and misaligned teeth. The process is non-invasive and requires little to no anesthetics. Often, tooth contouring can be done with a small polishing or sanding instrument.
Dental Implants
Dental implants effectively replace teeth lost to disease, injury, or some other malady. They look, feel, fit, and function like natural teeth. Jeffrey S. Thaller, DMD specializes in dental implants in Westfield, NJ. At our dental office, our team has the knowledge, training, and equipment to give you new teeth that look and feel just like the ones you had before.
What Is A Dental Implant?
An implant replaces the full tooth and fits directly to your jawbone. A crown or denture fitted over the implant fills gaps left by missing teeth.
What Are The Benefits Of Having An Implant?
Dentures become loose and a bridge may require a clasp to hold it in place. Implants don't have these problems. Advantages of dental implants also include:
Improved appearance
Reduced bone loss
Corrected speech
Easier eating
Enhanced comfort
Are You A Candidate?
A good candidate should be physically fit and have healthy gum tissue. Given the nature of the procedure, adequate jawbone density is also required to support the replacement tooth.
What Should You Expect After The Procedure?
Once a titanium post is in place, Dr. Thaller fits the restored tooth. It takes up to six months for the implant to integrate with your jawbone. Dental implants are like your natural teeth and require the same care. To keep your implants clean, brush and floss daily. Ensure your implants, teeth, and gums stay healthy with periodic dental visits as well.
For additional information about our cosmetic dental procedures, call us today at 908-654-7050.