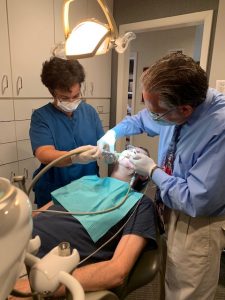 Jeffrey S. Thaller DMD specializes in crowns and bridges for his patients. Whether you need extra protection for your tooth with a crown or a bridge to fill in the gap for missing teeth, our staff will take care of you! Reach our office today at 908-654-7050 to schedule a consultation.
Dental Crowns for Stronger Teeth
If your tooth needs to be reshaped or sized, a dental crown will help to improve it. Jeffrey S. Thaller DMD will place a tooth-shaped cover over your tooth, this is known as a dental crown. You may need a crown for the following:
Hold a cracked tooth in place
Restore a broken tooth
Protect a weak tooth from breaking
Cover a dental implant
Cover a stained tooth
Anchor a dental bridge
Dental Bridges
Are you missing one of your permanent teeth? A dental bridge might be a great choice to fill in the gap. Jeffrey S. Thaller DMD specializes in installing dental bridges for clients to close gaps in their smile by replacing their missing teeth. We may recommend a dental bridge for the following:
Maintain your face / mouth shape
Restore you smile
Prevent drifting teeth
Help properly distribute your bite
How Does A Dental Bridge Work?
Jeffrey S. Thaller DMD will remove a small amount of enamel from your teeth to prepare for the dental bridge. We will then make an impression of your teeth for the bridge. After this has been completed, Jeffrey S. Thaller DMD will properly place it to ensure that it is a perfect fit. Afterwards, our dentist will cement the bridge in place.
Dental Bonding
Restore your teeth with dental bonding from Jeffrey S. Thaller DMD. If you have a chipped or discolored tooth, it can easily be restored through this method. We will fuse a tooth-colored resin to your teeth that will leave you with a natural looking smile. We have multiple shades to choose from to match your teeth.